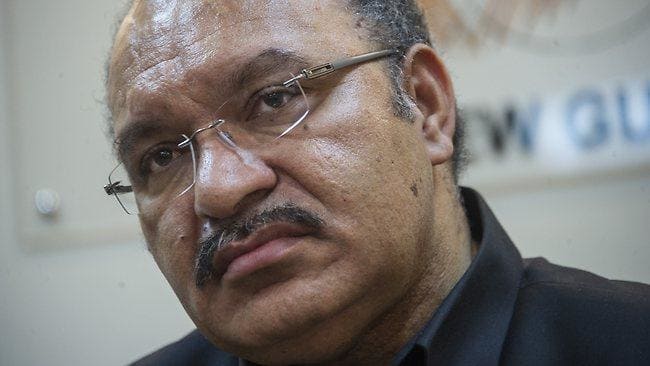 O'NEILL SEEKS INJUNCTION ORDER AGAINST HIS ARREST
FM100 News – Tuesday, March 03, 2020
By Lisa Pagelio
/////////////////////////
The National Court at Waigani will rule tomorrow on whether to grant former prime minister Peter O'Neill injunctive orders against police from arresting him.
Peter O'Neill is seeking interim injunctive orders from the National Court to stop his arrest pending the determination of a defamation suit against Police Minister Bryan Kramer.
Mr O'Neill's lawyer Tiffany Nonggorr submitted her clients is asking the court to restrain Police Minister Bryan Kramer, Police Commissioner David Manning and members of the police from arresting or attempting to arrest Mr O'Neill.
She submitted this is until a defamation suit on foot against Mr Kramer is dealt with by the court.
Mrs Nonggorr submitted in court there is evidence there is political interference in the work of the police.
McRonald Nale representing Mr Kramer submitted his client has not given any directions to police to arrest Mr O'Neill.
He submitted, this undertaken by Mr Kramer has been given to the court adding he's respected the orders previously issued by the court last month and the boundaries of the court.
https://www.kalangfm.com/…/o-neill-seeks-injunction-order-a…
Ends//
/////////////////////////
____________________________
RELATED NEWS: POST COURIER – https://postcourier.com.pg/justice-kandakasi-refuses-stay-application-on-oneills-arrest/
JUSTICE KANDAKASI REFUSES STAY APPLICATION ON O'NEILL'S ARREST
Post-Courier – Thursday, March 5, 2020
BY TREVOR WAHUNE
///////////////////////
Deputy Chief Justice Ambeng Kandakasi has refused an application filed by former prime minister Peter O'Neill seeking to stay police arrests against him.
The refusal of the application filed on February 11, by O'Neill's lawyer Tiffany Twivey, mean police are now free to arrest O'Neill for any allegations laid against him, however, while doing so, Police Minister Bryan Kramer must not be directly involved in any police operational matters.
Justice Kandakasi said in the Waigani National Court yesterday that Kramer should not be directly involved because by law, it was his duty to oversee policy matters that concerned the police ministry. "However, his direct involvement would be required if there were formal orders directed to him by the National Executive Council (NEC)," Justice Kandakasi said.
…
O'NEILL SEEKS INJUNCTION ORDER AGAINST HIS ARRESTRead More »