HON. MP DON POMB POLYE RECIEVED THE DEATH THREAT FROM THE MOBILE NUMBER +67574623852 on the 18th August 2021. – PNG UBS loan related. Read his full story below.
DON POMB POLYE RECIEVED THE FOLLOWING TWO (2) DEATH THREATS / WARNING FROM THE MOBILE NUMBER +67574623852 on the 18th August 2021.
THREAT/WARNING NO# 1. – PNG UBS Loan related.
Source: Don Pomb Polye | 19 August 2021.
Good night Honorable Polye .
This is just a friendly reminder to you.
You should appreciate the fact that you were given a great opportunity on a golden plate to retain your Seat .
Take it with pride and humble yourself.
You have suffered enough with great pains and loses to yourself and your families in those four years.
You have lost many important things in your life while out of the Political arena.
Now with just few months away before the 2022 NGE, You have to concentrate on how you will make it back in to Parliament…
If you keep barking like a dog at the UBS Loan of inquiry, You won't get anything out from it..
You are simply wasting your time and efforts.
Stop calling names and destroying the reputations of hardworking PNGns…Mipela nogat dinau wantim yu.
Na mipela no stealim meri blo yu..
Final warning to you.
Stay in your lane coz you don't wanna follow the footsteps of your late brothers from the Highlands.
Tankyu
——————————


DON POMB POLYE FIRST RESPONCE TO THREAT/WARNING.
Response 1.
CALL ME AND WE TALK.
NO NEED FOR THE THREATS. IT IS UNNECESSARY!
IT IS USEFUL TO TALK. SO THAT YOU AND I CAN STRIKE SOME UNDERSTANDING.
Goodnight brother.
DON POMB POLYE
————————-


DON POMB POLYE RESPONCE TO 2 serious THREAT/WARNING RECIEVED FOR TELLING THE TRUTH IN THE UBS COI.
( Refer to the Threat/ warning above made on the 18th August2021)
Response 2.
I SEE YOUR POINT…THOSE DECEASED YOU HAVE NAMED HAVE NO PARRALLELISM OR RELEVANCE WITH/TO ME. THEREFORE, I DISMISS SUCH ANALOGY OR EXAMPLES ABSOLUTELY. I AM DON POMB POLYE!!! I AM NOT THEM.!! I AM EXTRAORDINARILY DIFFERENT!!!. YOU WILL KNOW ME AS I CONTINUE TO REVEAL WHO I AM TO YOU AND OTHERS GRADUALLY .. THE ME ..SOON.!
HOWEVER, OBSERVE THE FF:
1. I never established the COI into the UBS loan! PMJM did and former PMPO agreed. I was outside of Parliament then. So go bark up at them…if you have wisdom.
In fact both leaders did very well to serve the interest of the 10 million people of PNG to reveal the truth about the K3billion UBS loan to PNG the way we all have seen done.
2. I am and was very sincère that I did ask PMJM to abort it. I said to PMJM to act on the OC report if he wanted to. The PMJM decided to proceed with the COI anyway.
PMJM decided that the OC did not cover the IPIC EB and the Corporate world in its participation of the UBS loan, hence a coi the PMJM determined would. I believe the PMJM did the most honorable thing in establishing the UBS COI.! Check your records.
3. I have been summonsed to the COI…twice and i refused. The COI director knows about that. I did discuss with PMJM persistently if it was the intention of the Marape-Davis/Basil government for me to give evidence. I never went there by any design of mine. It was a collective Government decision to constitute the Royal Commission of inquiry.
In fact, I went to Kandep and forgot about appearing the 3nd time. But again I was summonsed. So I attended to avoid prosecution. My intentions were sincère and focused on the truth of the damage the K3billion UBS loan caused on the 10 million PNGeans.
4. Had people not called my name and lied about the issues then i would have responded accordingly. For instance when I started off recently in my récent appearance, I was very soft but when I was 'put to' by counsel Tiffany that the UBS NEC submission was prepared for me to sign…, that.. you know very well, it was NOT TRUE.
I just told the plain truth that I never directed my then secretary Daire Vele to prepare any UBS loan paper. I also said the PM as the APPOINTING authoritative power, secretaries were directed by the PM to do papers besides their respective ministers.
I also said Daire was my man and my appointee because his dad was a good secretary and I expected him to be like his dad and knew that he would be good too. Ask Tiffany. ..she will tell you what I said.
5. But when it was pressed to me implying that I was lying because Daire had told the COI that my only reason in opposing the loan was to have the loan parked under petromin ltd, then I said no…it was not true.


As I had many other reasons for refusing to sign the instruments. Daire himself knows about that. I told Tiffany that if Daire had said that then he would have lied. I showed my letter to Tiffany that I had written to Sec D. Vele. The letter contained many reasons as to why I had strongly refused to sign for the loan.
6. Let me take my hat off to Daire for at least telling 90% truth about me and I am thankful. If you do know Sec treasury, please convey my thanks to him.
7. Also convey my solidarity to Sec Daire Vele to correct mistakes, become much more professional and true. If I hurt him as a person then I APOLOGISE. Professionally I DO NOT APOLOGISE as I was correct not to sign the loan.
8. You told me to shut up ..on the UBS loan issue and concentrate on my electorate. You see, I have a problem with that! KANDEP has been affected because the UBS loan has eaten into the cash flow of the country and destroyed the economy so that Kandep's development aspirations are jeopardized.
I believe the same is the dilemma with all PNG electorates and Provinces. So you better withdraw that statement and apologize!
9. You said I won my seat back on a golden handshake/plate. NO! You are wrong! I was buried! I fought to stay alive! I have risen from the grave. I am alive and strong ..!!!NEVER to be touched again!!! If you want to bury me again, I REFUSE.
I DISMISS, DISPELL AND BLOT YOU and your WICKEDNESS OUT OF existence. The grave you dug is your own.! Otherwise, REPENT and say SORRY FOR hurting the people with a stupid decision of K3Billion UBS loan!!!
10. Did you say my families? Just like your families, my families do not like me feeding them with stolen public monies so I am careful not to steal from public purse. How about you??? Do you work hard and earn honest day's work to feed your family?
Beware!!! Feeding one's family with stolen public money hurts one's family really badly! I will correct you that majority of PNG families like yours and mine do suffer at bad decisions like the UBS loan.
11. But pasim maus em ba nogat.! Sorry! Freedom of expression and fight against abuse na corruption em work God givim me!!! I promote LOVE AND HAPPINESS AND PERMANENT PROSPERITY FOR ALL. NOT JUST FOR A GREEDY FEW.


I DON'T LIE!!! I TELL THE TRUTH. IF YOU ARE WARNING ME FOR TELLING THE TRUTH AGAINST ABUSE AND CORRUPTION THEN YOU ARE ENCOURAGING ME TO TELL MORE TRUTH.
BTW. I AM taking your intimidation seriously!
I also thank you for revealing that you do know about the many deceased you have named and you implied to me of your knowing who killed them. You have revealed a long-searched for truth.
LET ME PROMISE YOU THAT FROM TODAY ( 18TH AUGUST 2021)YOURS AND YOUR ACCOMPLICES STEALING AND KILLING SPREE HAS ENDED. THE HUNTING OF THE HUNTER COMMENCES TODAY! THE FURICIOUS EYE AND MIGHT OF GOODNESS AGAINST EVIL YOU WILL SEE.
DON POMB POLYE.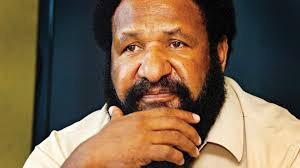 Read more news and stories here. Watch online news and documentaries about Papua New Guinea here.

[miniorange_social_sharing]