______________________________________
ENB CONVID-19 CASE: SECOND TEST RESULT NEGATIVE.
Press Release
Monday, 13th April 2020
———————————
The second test result of East New Britain's COVID-19 case has returned negative.
The deputy state of emergency controller says they were not surprised with this result as she was already on the road to recovery.
In this afternoon's COVID-19 briefing, Dr Paison Dakulala said according to the process of the infection, the 40-year-old East New Britain woman was already improving when testing was conducted.
"That is an assurance and the person is well," said Dr Dakulala. "And when we get the other test again, we will declare her as normal or no longer having the infection and that's it, she's part of anyone else, like you and me."
Dr Dakulala said although we do not understand, or are yet to discover the specifics of this new virus, what we do know is that there is a timeframe to it. He likened COVID-19 to the common flu, where around 80 percent of those infected recover.
"And when you go through the flu like everyone else, you become normal and then the flu goes away and you are cured."
Dr Anup Gurung from the World Health Organisation further explained the process undertaken.
"But there's also a thing about testing as we see in the case of East New Britain. There was the phase of the disease where the patient was already recovering," he stated.
"It's just a bad cold for a long time."
The woman was exhibiting symptoms on March 19th. She was tested on March 23rd, where the Prime Minister confirmed PNG's first local case on April 6th.
Another set of nasal and throat samples were sent for testing on the second week of April (April 7), which have now come back negative.
Under the World Health Organisation protocol, another test has to be done after 24 hours to confirm that the patient has fully recovered from COVID-19.
Hence the third sample was obtained today for testing.
Ends//
______________________________________
STATE OF EMERGENCY CONTROLLER ISSUES REQUIREMENTS FOR AIR TRAVEL.

MEDIA STATEMENT
Friday April 10th 2020
——————————
CONTROLLER of the State of Emergency and Commissioner of Police David Manning today issued an Emergency Direction listing the valid reasons for air travel.
Mr Manning said whilst measures are in place to contain the spread of the coronavirus or COVID-19 pandemic consideration is also being given to citizens who wish to travel by air.
Under this emergency direction valid reasons for air travel include:
Students returning to their usual place of residence or returning to their educational institution (one way tickets will be issued);
Persons returning to their usual place of residence (one way tickets will be issued);
Essential services;
Essential exempted business travel; and
Emergency transport, including but not limited to repatriation of deceased persons.
All persons travelling must fulfil one of the above reasons and be approved by the Controller. This direction is issued as per Emergency Order 7(22).
"Again, as I have stated, emergency orders, directions and restrictions are in place to assist the Government effectively deal with the COVID-19 pandemic.
We are determined to prevent the spread of COVID-19 so I ask for your patience, understanding and cooperation," Mr Manning said.
Approved for release by:
David Manning, MBE, DPS, QPM
Commissioner of Police &
Controller of the State of Emergency
Ends//
______________________________________
13 PNG NATIONALS BREACHED COVID-19 QUARANTINE PROTOCOLS ARE CAUGHT | MEDIA STATEMENT FROM CORONAVIRUS JOINT TASK FORCE NATIONAL OPERATION CENTRE, Tuesday 24th March, 2020.
COVIC-19 JOINT TASK FORCE
National Operations Centre
MEDIA STATEMENT
Tuesday 24th March 2020
RPNGC
Re-post from The Sunday Bulletin
13 PNG Nationals Flown  in from Singapore on a Chattered Plane to Western Province are Called Back to Port Moresby to be Quarantined.
THIRTEEN passengers and the third level aircraft they were travelling in were directed to return to Port Moresby by Commander of the COVID-19 Joint Task Force and Police Commissioner David Manning for breaching quarantine protocols.
Mr Manning commended Acting Deputy Commissioner Operations Donald Yamasombi and other police personnel who acted swiftly to send back the 13 passengers from Daru, Western Province.
The passengers, all PNG nationals had recently returned from Singapore and were subjected to the required 14-day quarantine period which was to end on Friday 27 March.
Mr Manning said, "The standard requirement for all passengers travelling into the country regardless of the nationalities must go through the 14 days quarantine process and protocols before going back to the society.
"However, they by-passed the COVID-19 quarantine measures under the State of Emergency. They stayed for only 10 days after returning from Singapore and decided to travel out of Port Moresby to Daru without completing the quarantine checks.
"On arrival at the Daru airport, the aeroplane was directed to return to Port Moresby with all passenger on board by police and health officials in Daru.
"They are now isolated in Port Moresby and a team of specialist will be investigating this matter to establish the facts before we take necessary actions.
This incident now gives us a level of confidence on the coordinating mechanisms that are in place to combat COVID-19," Mr Manning said.
Mr Manning further said that for the information of the public every person that has returned into the country since 6th of March are being kept under surveillance.
He said the COVID-19 National Operation Centre (NOC) is closely monitoring the situation around the country.
The call centre at the NOC has thus far received 700 calls on the toll free number 1800200. Over 700 calls have been received around the country and the Rapid Response Unit is now attending to them.
David Manning, MBE, DPS, QPM
Commissioner of Police
Commander – COVID-19 Joint Task Force
(Picture and caption above, credited to The Sunday Bulletin)
Senior Sergeant Tumbe Sam processing the 13 passengers who were returned back to Port Moresby from Daru at the Jackson airport terminal yesterday.
---
______________________________________
Papua New Guinea – Probable Case of COVID-19
Media Release – 18th March 2020.
————————————
Papua New Guinea we have a probable imported case of coronavirus or COVID-19 in Papua New Guinea.
The case is a 45-year old, male who arrived in Port Moresby on the 13th March 2020. Through our checks at the Airport, the case did not show any symptoms of cough, flu or fever. Exactly 24 hours after arriving in Country he presented with a flu and slight fever and thus fitted the case definition of a COVID-19 person of interest.
Immediately our Emergency Resposnse Plan procedures were activated and he was isolated and placed under strict quarantine, with test results sent to the Institute of Medical Research for immediate testing.
The case travel history originated from Madrid, Barcelona, Istanbul, and entered our boarders through Singapore. He then traveled from Port Moresby to Lae.
On the 14th of February, and in line with our Emergency Response Plan – contact tracing commenced, and close contacts were quarantined. None of the people who came into contact with the case at time of illness are showing symptoms of COVID-19.
NDOH has initiated contact tracing of all passengers who may have come into contact with the case.
Importantly, per the National Gazette No G169 of 16th March, the European Union was added to the list of countries on our restricted list. Those countries are People's Republic of China, Republic of Korea, Iran, The European Union, United Kingdom, and The United States of America.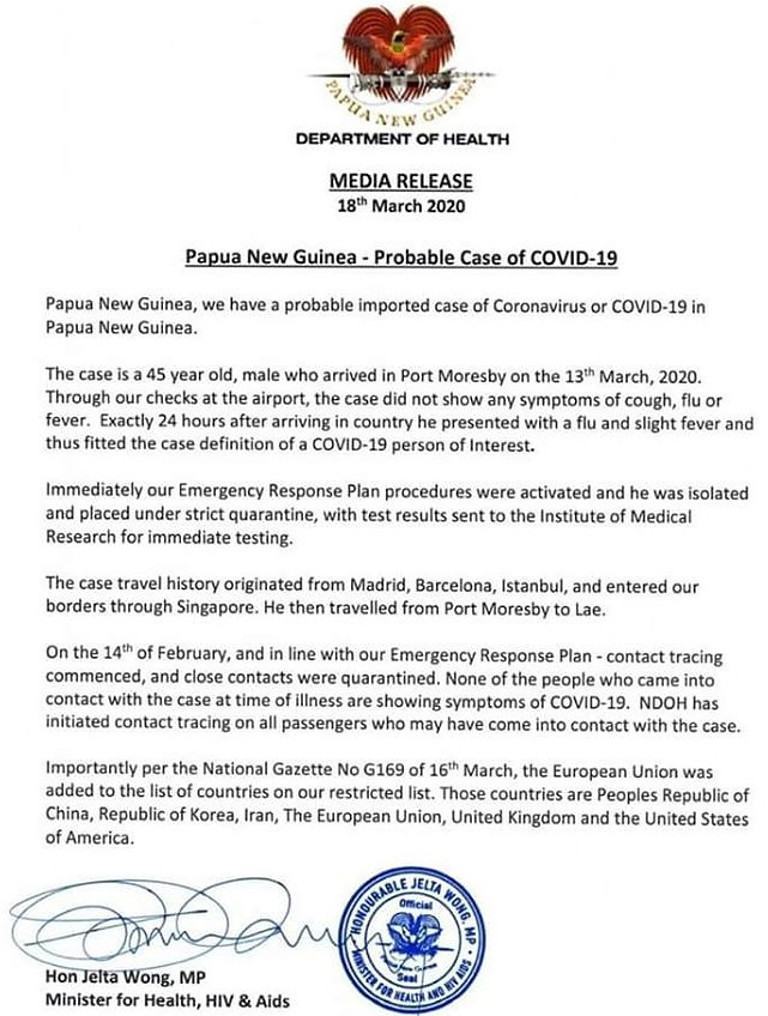 Signed and approved for release by,
Hon Jelta Wong, MP
Minister for Health, HIV & Aids.




---
______________________________________