EHP SIGNS K45B AGRICULTURE PROJECT AGREEMENT
Sunday June 14 2020 (Repost) 
By Honourable Governor Peter Numu, LLB, BA, MP via EHP Governor's News Page
———————————–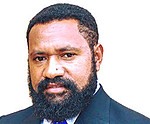 The future looks promising for the people of Eastern Highlands province in the agriculture arena. Soon after my election as Governor for EHP, I stood firm in fixing my Administration and put five year integrated Development Plan 2017-2022 as blue print or road map for development for my Province.
All Business Arms for EHPG are now put in order. YES Two-half years spent fixing mess created by previous Government and their administration.
The provincial government under my leadership now and for the remaining Two-half years stand committed to revive and transform agriculture in the province for the benefit of generations of Eastern Highlanders.
EHPG true to its word on agriculture policy, actioned signing of K44.85 Billion Memorandum of Agreement (MOA) with Mckinley Asia PNG Limited for Investments in Smart Agriculture and Livestock Projects.
The short ceremony took place last Friday at Hilton Hotel witnessed by Prime Minister James Marape, Eastern Highlands Governor Peter Numu, Agriculture Minister John Simon, Mckinley Asia PNG Limited CEO Min-Ho Hwang, and other high level dignitaries.
McKinley Asia-PNG Limited is a Subsidiary of United States based McKinley Investment Group LLC, headquartered in the Beverly Hills, an international group of companies specializing in fund managements with operations spanning over 100 countries across the globe.
The Company specialize in Fund Management and major Project Financing and focus on supporting and growing developing economies around the globe. It is the leading Fund Management Company in the Globe!
The particulars of the Agreement is for 13 Billion USD (K45 Billion PGK) is divided into two phase;
Phase 1: Pilot Project- 2 Billion USD, i.e. K6.90 Billion in PGK.
Phase 2: Feasibility & Construction for Various Projects- 11 Billion USD, i.e. K37.95 Billion in PGK.
For phase 1- Pilot Project: EHP Governor I have decided to be fair by recognizing my people at the Eastern Part of the Province:
1. In EHP Eastern end (USD 1 Billion (K3.45 Billion) – Downstream Processing Facility for stock feed and fertilizers factory. This project on EHP Eastern Side will bring more than 5000 job opportunities.
2. In EHP Western end (USD 1 Billion (K3.45 Billion) – Smart Downstream Processing Facility for Hatchery to finish product high tech factory. This project on EHP West Side will also create more than 5000 jobs opportunities.
For phase 2- Feasibility and Project Constructions (USD 11 Billion (K37.95 Billion): The Project will cover the following high impact projects;
1. Construction of various large scale agriculture and lives stock downstream processing.
2. Construction of Infrastructure road links to ease transportation
3. Construction of smart wind and solar electricity
4. Construction of smart housing
5. Construction and upgrading of Goroka Town into a smart city
6. Construction of rural clinics, health Centers and Hospitals with state of art equipment
7. Construction of markets for locals to market local produce
8. Construction of Incubation Agriculture Institute to train locals in state of the Art Agriculture technology and application
Upon commencement, this Project will provide more than 500,000 jobs for the people of Eastern Highlands and Papua New Guinea. The Project will also transform and elevate the living standard of more than 400,000 people!
It is on a Build Own Operate and Transfer (BOOT) arrangement direct investment funding through the National Government's platform of Public Private Partnership through arrangements as BOOT and Special Purpose Contract (SPC) Joint Venture.
IT IS NOT A LOAN, EHPG or National Government will spend nothing.
Together in this partnership EHPG and Mckinley can achieve a transformed and sustainable Agriculture based economy and provide food security locally and internationally.
This will in turn realize and reflect real increase in GDP per capita for our people once marketing of our locally produced agriculture and livestock are both supplied locally and exported internationally thus truly taking back Papua New Guinea.
Papua New Guinea Prime Minister Honourable James Marape who was present to witness the MOA signing highly acknowledged the provincial government's time and effort to look for the investors outside. Prime Minister Marape also gave his full support and endorsed the investment deal between McKinley and EHPG.
There are more blessings will come to my people of EHP as long as my heart is with my people.
God bless EHP.
Ends//
———————————–