I am not worried about what politics would bring to my people But I am so worried about how I will set the bench mark for Papua New Guinea from Wabag in terms of Service Delivery.
I will Set the Bench Mark for Papua New Guinea from Wabag in Terms of Service Delivery
By Tom Lino | Myles Maru, HR Specialist, BBM 2013, UPNG | 15 Feb. 2022.
My Policy is not about dishing out money & coke to win people's favor But Dishing Out Services to attain God's favor through His People.
I am not worried about what politics would bring to my people But I am so worried about how I will set the bench mark for Papua New Guinea from Wabag in terms of Service Delivery.
I am not concentrating on policies to win votes but I am concentrating on the level of sacrifices I should pay to my people for prosperity in every locality.
I am not building campaign houses for election but I am building roads and bridges to ensure my people build their trade stores, look after live stocks, transport farm produce and other microeconomic activities to boost their daily incomes.
I am not offering contracts to individuals but I am offering contracts to the people themselves by utilising the people's machines to deliver services for collective benefits.
I was not voted because I did not spent a toea from my small account But I was Chosen by the people FREELY to deliver Service and I will continue to Deliver!
I am not giving out money, which may seem the only strength my brothers (intending candidates) have today to dish out money?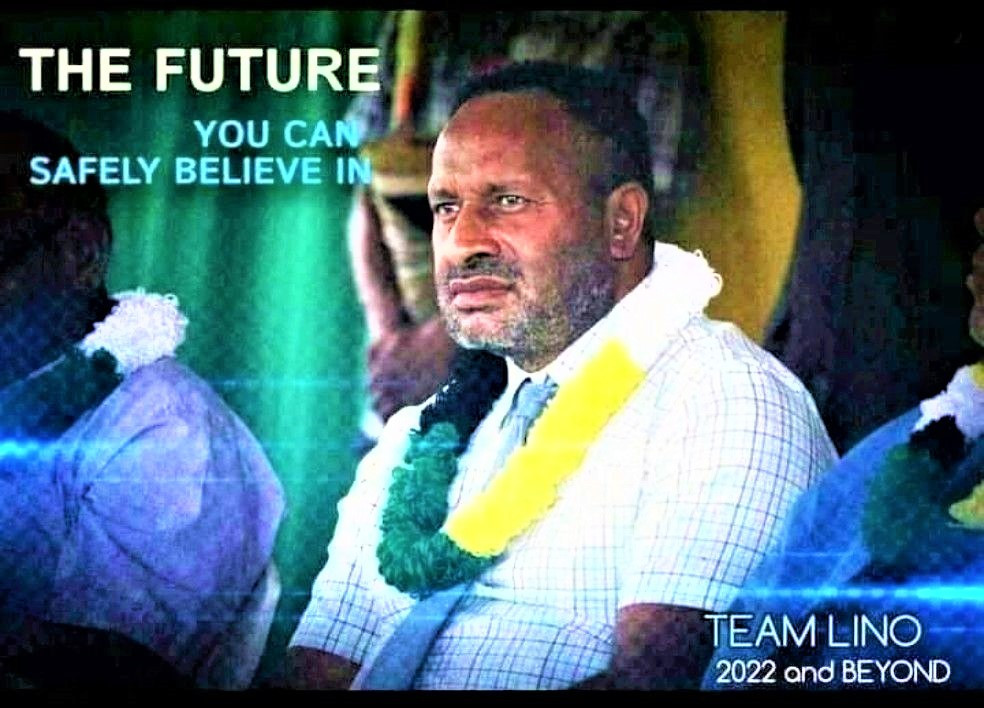 I am not warning my people, but alerting my people to be wise. If a coke cartoon reaches you in times of need, It is Food but tasteless and contaminated with curse if that man or woman giving you has a political rope attached to it.
We have been poisoned in that way for 47 years and evil people have ruled and ruined our lives and POVERTY has enslaved us in all aspects of life.
Break free....
Let Go of the past political lifestyles!
Cast the spirits of Coke & Lapmflaps out from our communities...
We can Change Papua New Guinea ...
Wabag Can Change Papua New Guinea ...
Dr. Tom Lino
Picture and story supplied by Myles Maru.
Dr. Tom Lino connecting rural Papua New Guinea. Watch here.
Adventure with Dr. Tom Lino (MP) into the Heart of Engans - MARAMUNI ROAD PROJECT, Papua New Guinea
Video by Wabag District Development Authority.
A very humble and down to earth Dr. Lino Jeremiah Tom is a quiet achiever.
His fear of the Lord has enabled him to think clearly and made wise decisions during his term.
PROFILE FOR MP WABAG 2017 - 2022 (Source: https://wabagdda22.com/about-wabag-dd...)
Hon. Dr. Lino Tom, Minister for Fisheries & Marine Resources and Member for Wabag.
Educational Background
MBBS: 1997-2001 University of Papua New Guinea
Master of Medicine in Surgery: 2006-2009 University of Papua New Guinea
Work Experience
2002-2003-Residential Medical Officer at Angau Memorial Hospital-Lae Morobe Province
2004-2005-Surgical Registrar-Porgera District Hospital
2006-Surgical Registrar- Goroka General Hospital
2007-Surgical Registrar-Port Moresby General Hospital
2008-Surgical Registrar-Royal Darwin Hospital-Darwin, NT, Australia
2009-Surgical Registrar- Port Moresby General Hospital
2010-2016-Provincial Surgeon-Sopas Hospital/Wabag General Hospital, Enga Province
Leadership Experiences
1996-President of Enga Student Association-Kerevat National High School
1997-President of Enga Adventist Students Association-UPNG
1998-President of Enga Adventist Students Association NCD-UPNG
1999-National President of EASA
2000-2001-Chairman of Fundraising Committee for Medical Students
2010-2016-Officer In Charge of Sopas Hospital and Co-Ordinator of the Sopas Restoration Program
2017-2022-Member of Parliament
Family
Married in December of 2011 and has one 4 years old child and an adopted 6 years old child. Wife is also a medical doctor; a Paediatrician and is from the East Sepik Province. I have 4 siblings and am the second last child in a family of five.
I come from the Lanekep clan of the Yanairin Tribe in the Wabag Central area. My tribe are the traditional land owners of what is now Wabag Town.
Highlights
The following are some leadership highlights of my career:
As the Co-Ordinator for the Sopas Project I have delivered this project very successfully and also has attained international re-cognition by getting aid from the Department of Foreign Affairs and Trade of the Australian Government.
For more than 2 decades, our provincial government has been trying to get assistance from the DFAT of the Australian Government but attempts have been futile till now.
The DFAT have come in because of the very high level of transparency we maintained through delivery of initial projects here at Sopas and the level of quality in projects delivered.