Journey From an Ordinary Papua New Guinea 'Village Kid' to an Award-Winning PhD Scholar. This is the true story of Dr. Bal Kama growing up as a simple village kid in the Gumine District of Simbu Province.
From Papua New Guinea 'Village Kid' to Award-Winning PhD Scholar.
Dr Bal Kama has a truly remarkable story. A story that inspires hopes and dreams for many young Papua New Guineans who dare to dream big. It is a story not only of hopes and dreams but handwork and commitment.
Dr Kama's story begins at Gumine District in Simbu Province, PNG, as published by Australian National University (ANU) website.
"Life as a village kid was filled with adventure, but also limited in opportunities. Despite being subsistence villagers, my parents encouraged my siblings and I to pursue further education
"One of my elder brothers, John, brought me to Australia for senior high school when he got a job here. I am grateful to him for his sacrifices. I went on to study a double degree in Bachelor of Laws (Hons)/Arts (Politics/International Relations) at the University of Canberra (UC)." he stated.
University life was difficult financially and he had to work two to three casual jobs to meet his university fees. With support from kind individuals, he managed to complete his scholarship at UC Law School.
Dr Kama has been named the 2020 winner of the Hank Nelson Memorial Award by ANU College of Asia and the Pacific for submitting the best PhD thesis internationally on PNG.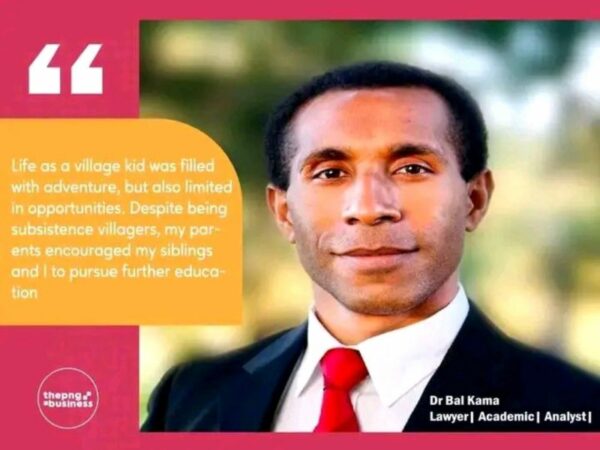 PC: Dr Kama
National Education Secretary interviewed live by NBC National Radio on Free Education in 2023.
"No schools should be charging any form of fees (tuition and project fees) to the students this year, 2023. Both tuition fee and project fee will be paid by the government",
- Dr. Uke Kombra, Education Secretary.
Live interview by: NBC National Radio - Real PNG