Keynote Address of Papua New Guinea Prime Minister Hon. James Marape MP at the 2023 Provincial Governors' Conference in Port Moresby.
Keynote Address of Papua New Guinea Prime Minister Hon. James Marape MP at the 2023 Provincial Governors' Conference in Port Moresby.
Marape - Rosso Government 2022-2027, Sunday 04th June 2023.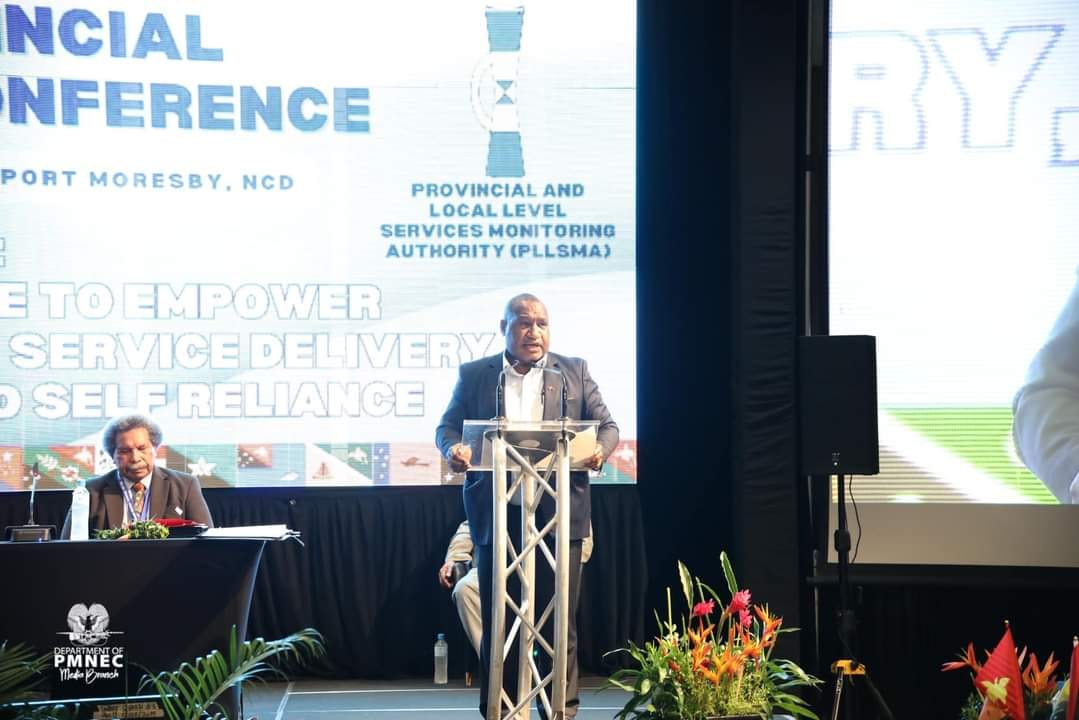 Introduction and salutation
Thank you, Master of Ceremonies, for your kind word of introduction. Let me acknowledge the:
• Motu Koitabu and Koiari people of Central Province for their willingness to give their customary land for Port Moresby city to be built as our nation's capital city and seat of authority for our beautiful culturally diverse country, Papua New Guinea,
• Minister for Provincial and Local Governments Affairs, Honorable. Soroi Marepo Eoe,
• Honorable Provincial Governors,
• Acting Secretary, Department of Provincial and Local Government Affairs, Mr. Joseph Warus,
• Departmental Heads,
• Provincial Administrators,
• Officers from the Department of Provincial Governments and Local Level Governments Affairs,
• Officers from the State Agencies,
• Representatives of development partners and stakeholders,
• Other invited guests, ladies and gentlemen,
It is my greatest pleasure to address you today in this conference on the theme "Continuing Dialogue to Empower Provinces for Improved Service Delivery, Economic Growth and Self-Reliance".
I want to appreciate your efforts and thank you for your leadership to our people in your respective provinces of our country.
You plan, and implement your budgets and are achieving remarkable outcomes that are worthy of your strong will and commitment to build your provinces and help build a modern Papua New Guinea.
Let me at the outset state here that my government believes in reforms. We now have 48 years of experiences where we know our inherent weaknesses which we must isolate and remove.
That is the work of reforms. Reforms that must bring about drastic, positive changes!
On Friday, I met with Ministers and Departmental and agency heads and called on them to give an account of their performance and achievements for the last 6 months.
We have no time to rest on our laurels. We must be in the business of achieving outcomes for our people.
We must deliver effectively on our mandated responsibilities to our people at large. Reforming our systems, reviewing our legislation, and creating an enabling environment for development to thrive must be paramount.
Let us be reminded that we all come from villages and therefore, our provinces, districts, LLGs and ward facility levels must be operational for services to flow to the lowest level. We will one day retire to a place that we helped build.
Our government is committed to supporting the provincial governments to undertake the work of supporting service delivery in the provinces.
Our budget to the provinces collective is around 31.23% of overall government expenditure since 2020. These are four hard years, but we are committed to maintaining and in some places increasing our expenditure to the provincial governments.
This includes increases to the provincial health authorities and the development budget outlays. In terms of actual allocation, except for one or two provinces, all provinces continue to receive significant allocation of resources.
It may not include significant and specific interventions that we are making to supplement district allocations on a case-by-case basis. It also does not include donor financing of important technical assistance or development projects.
But I think the most important thing to note is that the government is committed to empowering the provincial governments to be self sufficient and to depend less on Waigani. It is a long journey but one that we are willing to take.
I want to present to you my government's serious commitment to address some of the political, economic, social, and administrative issues we are pursuing.
We will address these issues in an open dialogue. Let me expound on seven important key programs going forward.
Decentralization of powers and functions to the Provincial Governments
First, is the Decentralization of powers and functions to the Provincial Governments. For the last past 48 years, as a nation, we have been operating and delivering services to our people in a highly decentralised government system.
It has united us as one people and one nation. This has worked and is working for us. There is no doubt about it. We all have worked very hard and built these decentralised government systems and institutions spending billions of public monies over the years.
The decentralised government system is here to stay as guaranteed by our National Constitution. The Marape – Rosso government is committed to honoring this constitutional directive and paying a very close attention on the importance of decentralization impacts on the national development.
Our provincial Government system must be supported and strengthened through key reforms. One of this is to refine Decentralisation that we already have to make it more functional for effective service delivery.
Decentralization Reforms - Papua New Guinea
My government is adamant that decentralization reforms must continue to bring about positive changes to the lives of our people. The Inter-government Financing Reforms is part of the Decentralization Reforms.
I must commend the National Economic and Fiscal Commission on the current review of Inter-government Financing Arrangements.
This is critical to ensure the aspirations of having a workable decentralization system is complemented with an integrated financing system.
This means to say that all fragmented financing arrangements be placed in one basket to recoup parallel funding arrangements, elevate provinces' fiscal capacities, and promote financial accountability.
An overarching Policy on Decentralization is an important tool for driving the different aspects of Decentralization Reforms. My department will work with DPLGA to ensure this is delivered before 2023 ends.
But it will need the support of all of us to make the reforms work. It will also need the support of all the open members to finally get the important changes that we all want to make for our provinces.
Second, the government is committed to implementing the recent Governors' Consultative Meeting Resolutions. You have highlighted on some pressing issues that impedes on our development aspirations and we will implement all in a case-by-case approach.
I recognize that there are a number of important resolutions that we need to work through carefully. I want to confirm today that my government is committed and will aim to implement all 20 resolutions this year.
At this juncture, looking at the bigger picture, I would like to announce the formation of a Bipartisan Committee that will evaluate the current Organic Law on Provincial Governments and Local Level Governments and propose a new law or make changes to the current proposed Organic Law on Decentralization and push for it to be enacted.
This Committee will be led by Honorable Governor for Morobe Province, Luther Wenge and deputized by Governor for East New Britain Province, Honorable Michael Marum.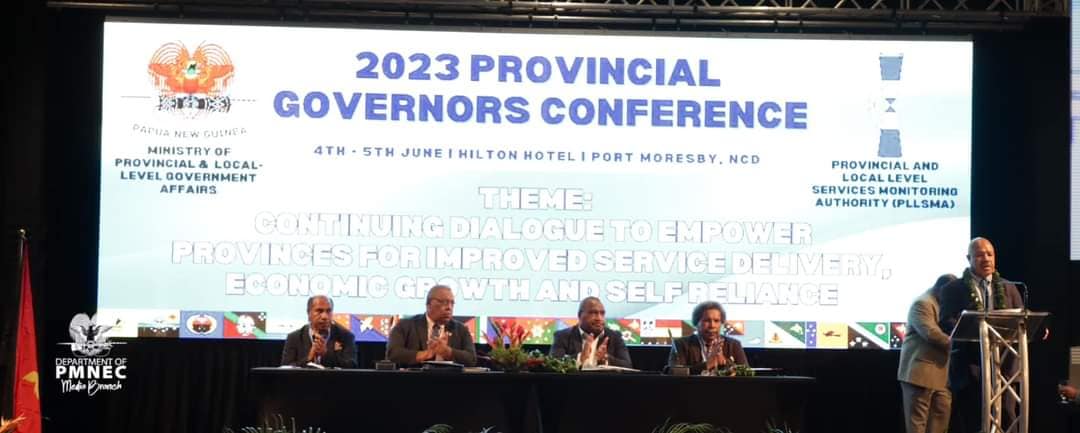 The Committee
The Committee will comprise of:
1. Governor for Enga, Sir Peter Ipatas
2. Governor for Oro, Honorable Garry Juffa
3. Governor for Central, Honorable Rufina Peter
4. Governor for EHP, Honorable Simon Sia
5. Governor for ESP, Honorable, Allan Bird
6. Governor for WNBP, Honorable, Sasindran Muthuvel
The committee will report to the Minister and myself. We will all work together to undertake these reforms and leave important and lasting legacies behind. When we are gone, our children will continue to use the law to manage and develop the country.
Another very important issue you have raised relates to Taxation and Remittance Policy. The government is committed to reviewing and assessing the Taxation Act and Remittance policies to ease transactions.
We have instituted changes on the issues and IRC will be making a presentation on this later.
The fourth matter you have raised relates to District Development Authorities service delivery and governance issues. The government established the DDAs as a vehicle for front-line service delivery.
The Department of Provincial and Local Level Government Affairs is now directed to assess and evaluate the performances of DDAs and provide a detailed report to the government to be presented in 2024 Governor's Conference, on the effectiveness of these performances.
Seven (7) New Districts in Papua New Guinea
We also have our seven new districts approved by parliament in 2022. Work has commenced last year after their inaugural elections. This Government will continue to support to ensure all these districts are on par with the others.
The firth program the government is committed to enhance and fund is Local-Level Government system. This is the closest system of government, closer to our people.
We have been conducting LLGs elections successfully, but lack of funding makes it difficult for this level of government to operate effectively.
The Department is directed to assess and reorganize LLGs in the district as legitimate lower-level government and DDAs as a service delivery mechanism. The assessment report should be tabled in the next governors' conference.
The six matters I want to frankly discuss with you are the National Monitoring Authority. I have made announcements in both print and electronic medias on the establishment of this important entity.
Its core mandate is to provide oversight on performance of agencies through key development outcomes encapsulated in the Strategic Loloata Outcomes with clearly identified high level Key Performance Indicators.
The NMA will report to the Prime Minister on the whole of government performance. The NEC has now directed that other monitoring, evaluation and performance auditing functions be reviewed so that the NMA is fully established with clear mandates to check on the performances of government against budgets provided for the year.
All Government agencies must now strategically align their plans and policies to the outcomes under the approved KRAs so that performances are assessed accordingly.
The seventh mater relates to the Provincial Local Level Service Monitoring Authority (PLLSMA). There is weak service delivery compliance monitoring and reporting of sub-national governments performances.
The government is committed to making this entity work more effectively. The Department is now directed to assess this entity's performance and report its findings in the next Governors' Conference.
In conclusion, the government is committed to continue the dialogue, partnership, collective thinking and reaching consensus for the betterment of our people. I believe in reforms for the better.
Let us all provide the direction for our people. Let us work towards common goals and build our provinces through reforms.
Once again, my esteemed governors, I salute you all and express my pride in you for the right path you've taken to collaborate with my government to reach common understandings on the policy issues impeding our development progress.
I am looking forward to receiving the outcomes of this conference. With these few remarks, I now declare the 2023 Provincial Governors Conference open.
Thank you very much.
HON. JAMES MARAPE, MP
Prime Minister