MADANG'S FIRST SIX WORKERS UNDER PACIFIC LABOUR SCHEME.
By Bryan Kramer | Kramer Report
//////////////////////////////
Yesterday, I met with six young men at Port Moresby's Jackson Airport who flew in from Madang on their way to work in a meat factory in Tasmania, Australia.
They are the first six of 49 that have been recruited by the Madang District Development Authority under Australia's Pacific Labour Scheme, which provides employment for Pacific Island workers in low- and semi-skilled jobs for up to three years.
The scheme is intended to help Australian businesses in rural and regional Australia fill the shortage of low to semi-skilled workers in sectors such as hospitality and tourism, aged care, food processing, agriculture, fisheries and forestry.
In the first year 203 workers from around the pacific participated in the program.
Kiribati (87),
Vanuatu (48)
Tuavlu (24)
Samoa (21)
Solomon Islands (20)
and Fiji (3)
PNG (0)
In April 2019 PNG joined the scheme following the visit of Australia's Minister for Foreign Affairs & Trade Minister Marise Payne to PNG.
Minister Payne hosted a luncheon with the Members of Parliament who were participating in a pilot Seasonal Workers Programme involving four Districts and one Province.
Madang District
Kavieng District
Goilala District
Obura-Wonenara District
Enga Province
It was actually thanks to the sharp thinking of Member for Kavieng Ian Ling-Stuckey, then a member of the Opposition and Shadow Minister for Treasury & Finance, who, during the luncheon, put the question to Minister Payne that while PNG was participating in Seasonal Worker Programme, could PNG also participate in the Pacific Labour Scheme. The Member for Kavieng highlighted the economic potential for PNG if 80,000 PNG workers were employed in Australia.
Following the announcement PNG joined seven other pacific countries who were already part of the programme. A month later Fiji followed suit.
A month after that the Government changed with James Marape PNG's new Prime Minister.
In the midst of a change of Government and change of Ministry, Madang District was quietly working around the clock putting in place a robust, effective and efficient administrative selection process to ensure Madang people would take the lead and benefit from both programs.
Today I am pleased to announce Madang has almost doubled PNG's seasonal worker participation, with a target of 1,000 by end of 2020. A thousand workers have the potential to generate up to K30 million a year in disposable income in Madang District alone.
I am also pleased to announce Madang has increased PNG's workers participating in the Pacific Labour Scheme, from 7 in 2019 to 49 in the first quarter of 2020.
The first six departed Port Moresby 6am this morning to work in a meat factory in Tasmania, with the remaining 43 to follow in the next two weeks.
They have each signed their employment contracts earning $19 (K48) an hour or K4,300 a fortnight, before deducting taxes, accommodation, travel etc.
In their last employment most earned the minimum wage of just K3.50 an hour or K294 a fortnight.
Of the six workers, two came from a rural village, one a settlement and remaining three from Madang urban.
So how much did they have to spend upfront to be selected to participate in the program? ZERO, not a single toea. Madang District Development financed every cost from passport, police clearance to medical clearance including airline tickets to Port Moresby. The Australian employer meets the cost for visas and airfares from PNG to Australia.
We were focused on selecting our best workers that would not only represent Madang but PNG, rather than focus on whether they had a passport, could buy their own ticket or had money in the bank.
In the meantime we have now expanded the program to recruit in partnership with churches in Madang.
Finally, I would like to thank the Australian Government for allowing PNG to participate in such an important program.
Six workers below at Jackson's Airport: From left: Matarab Baniwab, Clement Minel, Hank Anthon, Israel Kero, (in front) Hardie Drom.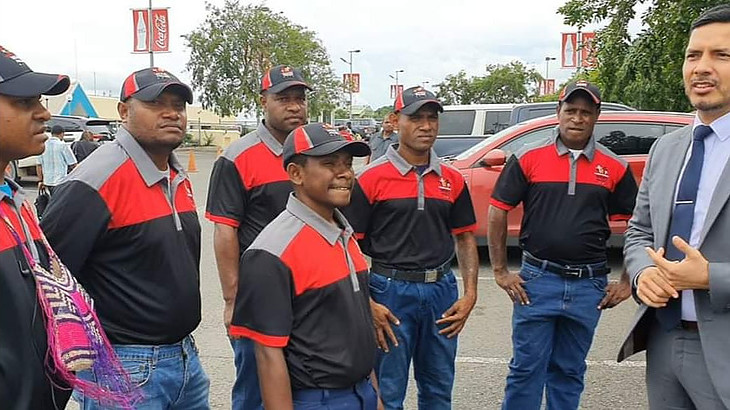 Picture credited to Kramer Report
Ends//
///////////////////////////////////////////////////