Marape seeks assistance to bail out PNG in fear of PNG becoming a failed state.
PNG staring at $3b bailout from Australia, IMF, World Bank.
By Angus Grigg (AFR)
—————————-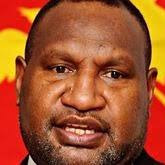 Australia and international lenders are preparing a bailout package of about $US2 billion ($3.3 billion) for Papua New Guinea, to help prevent the Pacific nation from becoming one of the failed states feared as a result of the coronavirus pandemic.
As oil and commodity prices tumble, Port Moresby is facing a severe budget shortfall and is negotiating a bailout package with the International Monetary Fund, World Bank and bilateral donors like Australia.
PNG Prime Minister James Marape spoke with Scott Morrison on Tuesday. Bloomberg
Prime Minister Scott Morrison spoke with his PNG counterpart James Marape on Tuesday afternoon, and it is understood strong international support for the Pacific was discussed.
The Department of Foreign Affairs and Trade said PNG was looking at its options to finance an expected budget shortfall.
It is understood Australia is part of these discussions with multi-lateral lenders.
David Gould, a regional economist from the World Bank, said PNG wold require a concessional loans package to help it through the coronavirus crisis.
"The Pacific and countries like Papua New Guinea are among the most vulnerable in the world," he said.
"As donors we are looking at ways to support PNG. Everything is on the table."
RELATED
G20 leaders fear for failed states
The spectre of China using the crisis to bolster its influence in the region is another concern for the Morrison Government, which has made the "Pacific step-up" its key foreign policy priority.
Australia provided a loan of $US300 million to PNG last year for "budget support" but this will need to be refinanced later this year.
Prior to the crisis it is understood a larger multi-year package was being discussed between Port Moresby and Canberra.
According to its budget papers, PNG would have required $2.3 billion to finance its deficit this year and had a further $1.2 billion of debt on its balance sheet (not including that held by state-owned enterprises).
But the plunging price of oil and mineral commodities has already left a K1.3 billion ($650 million) hole in the PNG budget, according to Treasurer Ian Ling-Stuckey.
"We are actively exploring options to fill some of these gaps from international assistance," he said in a statement.
"The new IMF facility could provide … over K1.1 billion and the option of additional World Bank funding for the budget and heath activities."
Currency in focus
The Asian Development Bank is also likely to provide some financing, but Mr Gould from the World Bank stressed bilateral donors also needed to step-up.
The World Bank is forecasting PNG's economy to grow by just 0.2 per cent this year, although Mr Gould said there was a strong possibility the figure would be revised downwards if new resource projects were put on hold.
RELATED
World Bank forecasts deep regional recession
One of the main points of contention is whether the kina, which is pegged to the US dollar, should be devalued by as much as 20 per cent as a condition of any international assistance package.
Stephen Howes, director of the Development Policy Centre at the Australian National University, said any forced devaluation of the kina would be politically difficult for the Marape Government at present.
"PNG needs reforms, like a more flexible exchange rate, but they also need money urgently," he said.
"While I have been calling for a devaluation [over the past year] I don't think it should be a condition for budget support."
Mr Howes said any devaluation of the kina would push up the price of imported food and could lead to social unrest.
One option being floated by Mr Howes is to repurpose the Australian Infrastructure Financing Facility for the Pacific, which is yet to allocate its $2 billion in seed funding.
Australian officials and Treasurer Mr Ling-Stuckey held discussions in early March about how PNG might benefit from the fund.
PNG is classified by the World Bank as a fragile state, along with the Solomon Islands and East Timor. This puts in the same category as the likes of Yemen, Syria and Afghanistan.
The prospect of failed states in the Pacific was discussed by G20 leaders during a phone hook-up last week.
-Angus Grigg is an investigative reporter based in Sydney. He has worked as a foreign correspondent in China and Indonesia, and has won two Walkley Awards-
Ends//
—————————-