UPDATE ON COVID-19 AUDIT
By Kramer Report | 31 May, 2020.
————————————-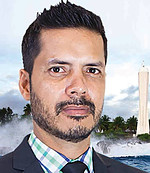 Last week The National published a front page story on (former) Opposition Leader Belden Namah calling on me to make public the internal audit conducted on the K23 million COVID-19 funds.
The paper reported Namah as saying the audit should be done by an independent audit team, and not the Police Minister.
"He committed himself to completing the internal audit in seven days. It is now more than 21 days," he said.
"You can't make such statements and do the audit (because) you are not an auditor," Namah is reported saying.
So what is the latest update of the audit, and why hasn't it been made public?
It is true I did make the statement that an internal investigation would be carried out into in the K23 million released by the Marape-Steven Government to the Health Department for Covid 19; and I did say I expected it to be done within 7 days.
Unfortunately, following that statement, I was tasked to deal with a number of pressing issues, and I became embroiled in a number of court matters.
I simply wasn't afforded the luxury of time to complete the report within the time stated.
I did receive all the bank statements and source documents from the Department of Health.
Pressed for time, I sought advice from professional advisors in aid and donor programs to engage an independent auditor to carry out the work. Based on the advice provided, Andy Pape of Pape Consultants & Business Advisors was highly recommended.
On 16 May 2020 I met with Mr Pape at the National Operational Centre. I briefed him on my plans to engage a forensic accountant to carry out an independent investigation into the expenditure of K23 million COVID-19 funds.
Mr Pape provided a company profile and an expression of interest to provide services. Terms of reference were drawn up and agreed to.
There was a delay of two weeks to formalise the details and define the extent of the work to be carried out.
I'm informed that, if provided all relevant information, the forensic audit should take no more than two weeks.
It is important to note that no Government since Independence has ever undertaken an audit in the middle of an SOE.
Picture: Minister for Police & Andy Pape meeting at the National Operational Centre this Thursday to get an update on the audit.
Ends//
———————————–