Peter O'Neill's Statement on PNG-US Security Agreement – To the Nation of Papua New Guinea.
Peter O'Neill's Statement on PNG-US Security Agreement - To the Nation of Papua New Guinea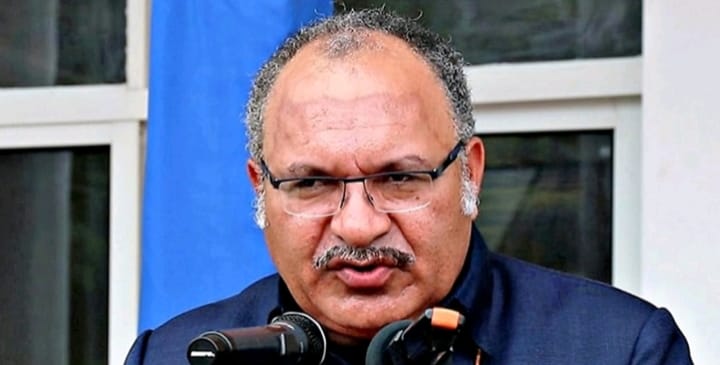 O'Neill's Statement to the Nation of Papua New Guinea
Monday 22nd May 2023
Good day to you my fellow country men and women.
I wish to speak with you on a very serious matter of national importance concerning Papua New Guinea's foreign policy in the lead up to a planned signing of a Defence Cooperation Agreement between our country and the United States of America.
The Marape Government has positioned our country at the epicentre of a military storm between China and the USA by agreeing to enter-into defence arrangements with both superpowers without consultation with our people and without appreciating the consequences of such defence alliances to our sovereignty and to regional and global peace.
The community has spoken loudly and there are grave concerns regarding the signing of a secret Defence Cooperation Agreement with the United States.
However, even prior to this latest issue, the Marape led Government has been entering into defence arrangements with China, ramping up the chance of war in our region and putting PNG right at the centre of conflict.
For example, in 2020, the Marape Government encouraged the annexing of land at Daru for a US$200m Chinese Fishing facility on the doorstep of Australia.
It was at best insulting to our long-term security provider Australia, and undoubtedly added petrol to simmering tensions between AUKUS countries and the China Russia alliance.
Global media reacted at the time and the talk was awash of the recklessness of the PNG Government to inflame tensions and take sides for no benefit to our citizens.
Furthermore, during the National General Elections, acting in a care-taker capacity, Marape hosted a controversial visit from the Chinese Foreign Minister.
It was an unprecedented incident when a member of a foreign Government was afforded a state visit and have secret meetings with a caretaker Prime Minister during a National General Election.
At the time, China hoped to sign a security pact with the Pacific including PNG.
Another example in August 2022, Commissioner of Police David Manning announced that China had donated 2000 bullet proof vests and helmets to RPNGC and would provide ongoing training support from China and the building of new facilities.
And in December 2022, PNG Chief of Defence during the announcement of a new Chinese funded Military Hospital at Taurama Barracks in our nation's capital Port Moresby, thanked the People's Liberation Army of China for its "continued support with training and willingness to support us in areas that need capacity building" and indicated a joint 2022 – 2026 Defence Intent.
Just a few weeks ago, Foreign Affairs Minister Justin Tkatchenko visited China to meet with Chinese Foreign Minister Qin Gang.
Mr Qin raised China's concerns of the proposed new security treaties and the impact these treaties might have on existing Chinese and PNG military and security agreements.
Chinese Foreign Minister, according to Foreign Minister Tkatchenko, in a media interview, made it clear that these new treaties with AUKUS were a return to the Cold War era.
The Marape Government since 2020 has committed PNG to multiple arrangements involving our Police and Military without due thought to the impact this would have on our other partners such as the USA and Australia when it is clear tensions are simmering.
The Marape Government has recklessly created problems by putting our peaceful country in the crosshairs of superpowers at a time when other countries have sensibly opted to remain neutral.
The bungling of our international relations and security arrangements has therefore led us to this terrible point in our young country's history where we are now precariously and unnecessarily placed at the bullseye of the world's biggest superpowers, the USA and China.
The Marape Government must hear the plea of the people of PNG who do not wish to rush our country into any agreements.
The actions of the Marape Government are inflaming tensions and do not create an environment of peace.
I appeal to the Marape Government to slow down and utilise the skilful, traditional practices of our Melanesian way to show leadership to our powerful partners of the USA and China and encourage a simmering down to business as normal rather than a ramping up towards war in our region.
To the Marape Government - you have a responsibility to all of us to pursue peace over all else even if the demands to do otherwise are made by powerful forces.
And if there are to be benefits of entering into these agreements, then respectfully let the USA or China make good on those benefits. They have both the financial and human capital to help PNG develop and we welcome this, but it should not come attached to a Defence Cooperation Agreement.
Reportedly, the Defence Cooperation Agreement with the USA will nullify our own laws and thus disable our ability to prosecute any US person who commits a crime in our country.
The USA will therefore have complete control to carry out any miliary or surveillance operation on our lands or waters without consequence.
PNG has tested such agreements in Court previously. In 2005 in the Special Reference made by the Morobe Provincial Executive pursuant to section 19 of the Constitution, the Supreme Court found that, and any such agreement is not valid where non-citizens are given immunity of prosecution if laws of PNG are broken or undermined as in the Wenge Supreme Court case.
This Marape Government is making agreements and promises that it does not have the power to maintain which will in turn cause even more tension.
Ladies and Gentlemen, I choose my words very carefully and want to make it clear that I support our long held foreign policy of friends to all and enemy to none.
We have always looked to Australia to provide our security in the region and simultaneously, PNG has cooperated with all nations to trade goods and develop our country.
There is zero reason to change this policy and if we are to change, the people should at the bare minimum be given a specific voice on the matter.
The Marape Government does not have the mandate of the people to enter into military or security agreements with any country that depletes our sovereignty.
In the 2022 National General Elections, international observers estimated that less than 50% of eligible voters voted. It is therefore questionable whether the decision to enter into a constitutional altering agreement would be valid.
Any change or watering down of our sovereignty at least requires a referendum to be held to give our people the choice.
The Marape Government and Foreign Minister Tkatchenko should not under any circumstances meddle with our existing foreign policy without the specific consent of our people.
Please, I encourage you to voice your opinion and ensure your elected Members of Parliament and our international partners hear our respectful and peaceful plea to not rush into any agreements but to rather seek peaceful ways to resolve the increasing tensions for the sake of not only our country but all countries.
God bless Papua New Guinea
Hon. Peter O'Neill.