THE JOURNEY FROM TONDMONG TO KAGAMUGA - Papua New Guinea Highlands Business magnate Simon Korua (1957 – 2014)
The story of a true legend self made multi-millionare Papua New Guinea businessman
Courtesy EagleTimes
Late Simon Korua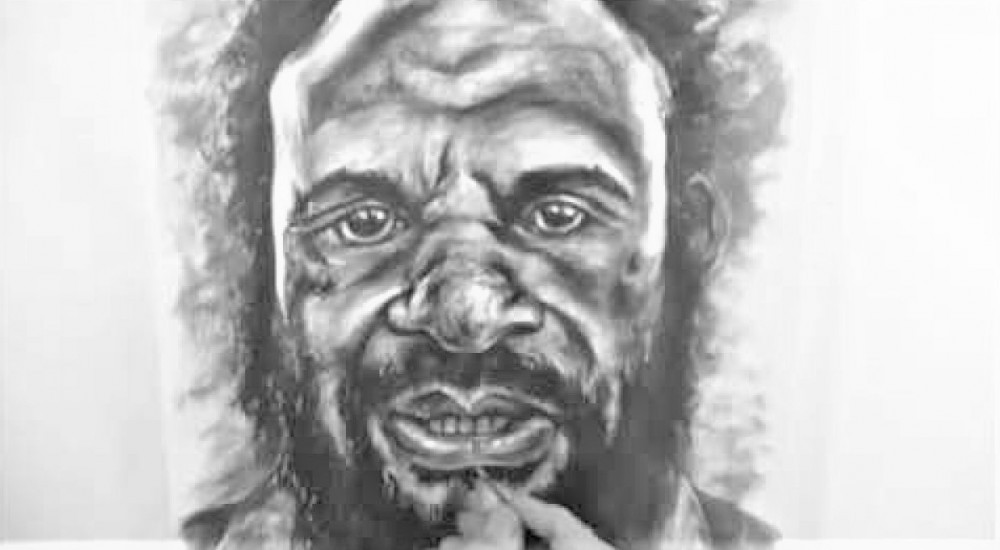 Simon Korua (Simkor) was born in the stone-age of the highlands of Papua New Guinea and would live through the space age and into the advent of the internet. His story in many ways mirrors the journey Papua New Guinea as a nation and her people have taken from being bare-breasted, loin cloth wearers to a rising economic and political power in the Pacific.
Born from a bloodline of battle-hardened warriors, the cold crisp air of the highlands of Papua New Guinea wouldn't dampen the spirits of bare chested highlands boys who caddied at the old Mount Hagen golf course.
In 1971 whilst in grade six Simkor would caddy at the golf course. He and his cousin John Kupp would sometimes sit and admire a Range Rover owned by Peter Howard, a coffee plantation owner. One day, Simkor's curiosity got the better of him and he decided to physically inspect the Range Rover as his mates watched.
Howard spotted Simkor touching the Range Rover. He and his mates immediately received an earbashing. This event would send ripples through his psyche and shape his destiny. Affected by the scolding, Simkor told John that one day when he became a multi-millionaire he would buy a red Range Rover. Even as a teenager, he was specific down to the minute detail about what he wanted in life.
The question now remained as to how he would become a multi-millionaire and buy a red Range-Rover.
Simkor understood one thing; education was the key to success. Whilst this may sound like a cliché to many contemporary Papua New Guineans, it was a revolutionary insight for a teenage boy in primary school during the 1970s, having come from a remote part of the Western Highlands Province,.
Simkor's people had just under 20 years of interaction with western civilization. His people had in some sense just returned from the Great Highlands-Sepik patrol that colonized the final frontiers of the Highlands of Papua New Guinea in the 1950s and were settling into colonial rule under the Australian administration.
"Education will take us across the mountain ranges to Kagamuga airport," he once told his friends. Many didn't understand his "Tok Pisin blong Hagen" (figure of speech). But there was a sense of urgency in his prophetic voice. What he meant was that education would help them to one day fly out of Kagamuga to opportunities beyond the blue mountain ranges of Mount Hagen.


In 1972 he attended Fatima College (Fatima Catholic Secondary School today) and completed Form II (grade 8) the following year. In 1974, a year before the Bird of Paradise would fly on the flag poles of a new nation; Simkor would fulfil his own prophecy of flying out of Kagamuga airport. He flew to Port Moresby, the emerging capital of a new nation where he would do Forms III & IV (Grades 9 and 10) at Idubada Technical College (known then as POM Tech ).
The fact that Simkor had chosen this route highlights once again his sense of urgency. There wasn't much time with-in which he could achieve his dream of being a multi-millionaire. Whilst at technical college he also took up additional courses in accounting and business studies.
Following technical studies he landed a job with Dunlop in Lae. Those who visited him at the his flat recall distinctly how frugal he was. In his fridge were only three items – a can of bully beef, packet of long grained rice and water. He was a man on a mission and was very conscious about his spending.
A few years later he left Lae and joined the Commonwealth Bank in Mt Hagen. By now he had established a small trade store in his village trading as Simkor Trading. And by the late 1970s Simkor moved into trucking initially beginning with one truck then growing the fleet to 10 vehicles.
There was a certain discipline and business sense that Simkor had that his peers admired. Whilst in the trucking business, for instance, he drove one of the trucks himself and set a very high standard for the drivers he employed.
On one occasion, cousin John hitched a ride with him from Lae to Mount Hagen. As they drove along the dusty highlands highway, John hoped that they would stop at Kundiawa or Goroka to take break and have a bite. Simkor instead drove past the towns and stopped instead at Kainantu where he bought two bottles of soft drinks and two tinned cake rolls. John wasn't impressed and later as they drove on asked him why he had done so.
Simkor's reply was perhaps a good-lesson for many aspiring Papua New Guineans to reflect on.
Firstly, he didn't want to be stuck in a queue at a shop in Kundiawa or Goroka. This was a waste of time and time was money.
Secondly, he didn't want to be caught up in debates with stranded wantoks looking for a free ride or free handouts.
Finally, stopping at Kainantu meant he didn't have to deal with delays and wantoks and also he could build a business relationship with the lone trade store owner who had customers few and far between.
Post 1979 he had established several companies including Simkor Didiman Supplies, Monpi Coffee, Simkor Engineering, Maps Tuna, Chemica Chemicals, New Guinea Energy and Spectra Industrial.
By the mid-1980s Korua had made his millions and was purchasing property in Queensland. He introduced several PNG investors to a strip of land in Gold Coast which now bears the name Mt. Hagen road. He had sold his trucking business and moved into selling chemicals and agriculture supplies.
By the 1990s Simon built a magnificent mansion back in his village, Tondmong. Even to this day, many believe Simon's mansion in his village remains an unrivalled piece of architecture comparatively for rural Papua New Guinea. In 20 years he had gone from a penniless mountain boy to the peaks of economic power in the country. Simon then set his eyes on National politics, contesting the 1992 and 1997 general elections.


He also bought himself a red Range Rover signifying his coming of age as an economic powerhouse in Papua New Guinea. Simkor Didiman Supplies became a household name throughout the highlands and to this day many would remember the trademark Simkor stockfeed bags.
Simon's entry into politics was about public service. He had already become a successful multi-millionaire – a self-made man. What he saw through politics was the potential to empower and uplift many Papua New Guineans.
His lack of success in entering politics didn't deter him from actively engaging in party politics, first under Wingti's People's Democratic Movement(PDM) and recently with the ruling People's National Congress (PNC). We see Simkor's han mak (legacy and influence) in how the PDM and PNC governments have pushed for universal primary education.
In his own way he also wanted young Papua New Guinean to make the proverbial journey to Kagamuga. Education was in his opinion the enabler of opportunities for those who were hungry for success.
Simkor developed a diverse investment portfolio. He held various directorships in Air Niugini, The National newspaper, Barclay Bros, New Guinea Energy and Pacific Capital. At the time of death he was a director of several companies including Bowmans Glass, Monpi Coffee, Chemica Chemicals, Papua New Guinea Microfinance, and MRDC.
Underlying his success was a visionary man with the discipline to realize his dreams through wise spending and saving, time management and hard work. He was always conscious about time realizing how little time there is to do everything. In some sense he had mastered the western concept of linear time and the sense of urgency associated with that as opposed to the Melanesian world view of circular time. This indeed may be important lessons for those who wish to emulate Simkor.