A Proud Dad right there (pictured) with smiles knowing he finally got his wish in having a Chemist of his own, which he can run ideas by.
HE FINALLY GOT HIS CHEMIST.
By Flare Namaliu | 14 August 2021.
To everyone he is Mr Yak Namaliu, to us his "Dad" now a retired Cocoa Plant Pathologist better known within the Cocoa Industry as the IPDM Man for his work in assisting Cocoa Farmers in PNG using the Integrated Pest and Diseases Management (IPDM) Technology through the ACIR – AusAid Funded Project.
Now being a Scientist, means his very adamant in his work as well as our (his kids) Future, he was sure we will have a bright future if we put in the hard yards and he was also the type of Dad that Planned out what he wanted his kids to be when they grow up.
Given his Scientific Experience, that was where he wanted us all be be around, he aim was to have two Chemists and all eyes were on me when got that UPNG Science Foundation Offer, unfortunately I had other plans solely because Chemistry did not excite me much the way Physics did.
He was devastated but still supportive but why worry he got four more kids to go through so there is still hope.
So when his middle child, Miss Seeghoi Namaliu go an Offer for UPNG Science Foundation, we were excited, Dad was over the moon when Second Year Came around and she Majored in Chemistry
Fast Forward to 2021, She Graduated with her Bachelor of Science in Chemistry and working with Food, Manufacturing and Beverages Company is a bonus.
Yes he finally got his CHEMIST
He still has his two sons although not in Chemistry, one an Accountant to Graduate 2022 – Mr Hombunaka Sali Namaliu as well as another Aspiring Agricultural Scientist – Mr Gereharb Namaliu coming up to ensure we work together to see what he has in mind.
Plus a bonus rebellion Elder Daughter from ICT Space but aye a blessing in disguise for him as we live in a Technological age which he is slowly catching up too but when you have your own daughter , why worry, he know he will get the best inhouse.
Someday we hope to have our Own Family Business and fulfil what our Old man has in mind, he has alot of hopes for the Agriculture Sector and a lot of things he needs to improve and having a Chemist was his go to plan. He is more on downstream Processing.
Dad is a very hard working man, he is tough, he has principles, he has work ethics, he is an High Achiever who has made his name within the Cocoa Industry over the past 40yrs and as seen through us the Kids.
Now retired, he enjoys time in the village planning his next move, cultivating the land, running his trials, testing out different methods and keen on seeing all of us to make it through.
Picture was taken during Miss Seeghoi Namaliu Graduation, a Proud Dad right there with smiles knowing he finally got his wish in having a Chemist of his own which he can run ideas by.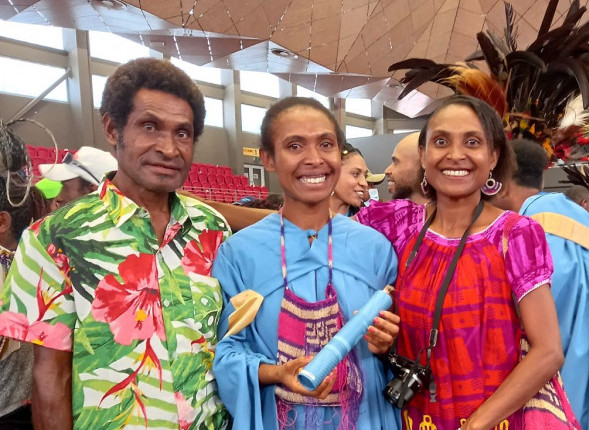 Read more news and stories here. Watch online news and documentaries about Papua New Guinea here.

[miniorange_social_sharing]