GOVERNMENTS ECONOMIC RESPONSE STRATEGY FOR COVID-19 STILL MISSING?
By Livingstone Fontenu
—————————————–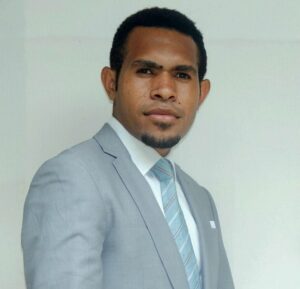 The PNG government seems to have run out of ideas on how to deal with the Covid-19 pandemic. The government's response at this stage is merely reactive, not proactive! While they are waiting for an incident to happen before they move, the prices of food and essentials in stores have tripled in less than a day in Pom and Lae!
So far, the only sensible, workable and comprehensive response plan has been released by Peter O'Neill last week. But it was just a preliminary response basing on the past circumstances. With the current escalation, including the announcement of the first confirmed case, the government needs to develop an all-inclusive contingency and mitigation plan capturing worst-case and best-case scenarios across all agencies.
Today, the government must not only plan on how it will respond to the disease and the victims themselves but more importantly on how they can manage the inevitable impact it will have on our socio-economic livelihood, internal stability and community cohesion.
The health department and the Police have already released their blueprints. The country is yet to hear from the economic ministries, especially the treasury, finance, state enterprise, Commerce, Labour, mining and petroleum, and energy departments.
If there's one thing Covid-19 has taught us it that it is an economic slayer – it has destabilized stock markets, devalue currencies and destroyed economies. The chaos this virus will create at its peak will be far worse than the 2008 global economic crisis.
When the UK was preparing to leave the European Union through Brexit, we prepared contingencies to capture every possible scenario to the minutest detail – even local councilors developed their own Economic Disaster response. The economy of a nation is its bloodline and if there's an imminent threat, its mitigation proposals must be top priority.
After assessing the current situation, I'd like to put forward some actionable strategies that our government can perhaps take on board if they like.
1. A supplementary budget has to be passed immediately to relieve all the expenses towards the response efforts as well as to counter the economic loss for companies and individuals
2. While waiting for the supplementary budget, the government must allow temporal flexibility to the 2020 national budget but at least within the public finance and management act.
3. The government must reach out to IMF and World Bank to access the Emergency Financing – a quick one-off financing facility recently created to support response to covid-19. Also access the Catastrophe Containment and Relief Trust – a debt relief grant for poor economies like ours who are more vulnerable to the disease, including other financing agreements and capacity development assistance. In that way, the Government can renegotiate and develop new approaches to its loan obligations.
4. Create Emergency Care Benefits for workers who will self-isolate but are not entitled to paid sick leave from their employers so that they can be able to meet their rents, bills, foods and essentials including preparation towards individual covid-19 response
5. State-Owned Enterprise minister to negotiate with utility providers like water suppliers, PNG power, etc, to waive their payments for a certain period
6. Create Emergency Support benefits for those workers who are being laid off work due to the loss of business by companies. This will assist them to absorb circumstantial changes and blend in and not have to deal with two catastrophes at the same time – unemployment and coronavirus!
7. Create Economic Injury Disaster Loan (EIDL) for all agencies (SMEs, NGOs, Corporatives) to be used to pay fixed debts, provide cash flow for payroll, replace the loss or manage excess inventories, accounts payable and other priority bills. And as a loan qualifying term, instruct these agencies to allow more than 80% of its employees to work from home (except the sick) through teleworking or videoconferencing. This will help everyone keep their job, pay tax, keep businesses afloat and make it easy for the economy to pick up once the dust settles.
8. Provide wages subsidy and cash flow support for state-owned enterprises that are severely affected. These include Air Niugini from the shut-down of international flights, the National Gaming and Control board, Fisheries, Coffee Industry Corporation and other exporting agencies.
9. Defer or allow flexibility for all tax payments (income, salaries & wages, GST) that became owing from today for a period or 3months or 6months, depending on the convenience of the government and assessment of developing circumstances on the ground
10. Ask banks and financial institutions to allow a 3months or 6months interest-free pause on all loans (personal loans, school fees, housing, and business loans). This will provide financial relief and ease the pressure.
11. Government and ICCC to provide extensive surveillance on operations of shops, especially those selling essentials and food items. Shops hiking prices must be dealt with immediately as this is adding fuel to public distress and panic.
12. Labour and Commerce ministers to direct shops to create price tricks to prevent the hoarding of essential items. E.g. If 1 hand sanitizer costs K20, then buying 2 sanitizers can be priced at K100. Remember, buying 100 hand sanitizers doesn't stop the spread of the virus, but allowing others to also have such essential items do.
13. Markets not to be closed but controlled and regulated (E.g., only allow the selling of food items and essentials). A health and safety team to be stationed at every market to provide masks and gloves free to vendors and shoppers alike. And a hand sanitizer station must be installed in front of market users.
Yes, covid-19 is a health pandemic but we have seen the extent of its destruction, thus our responses must not be only medical, military or economic for that matter, but must be all-inclusive. In that way, we keep living humans alive, employees in employment and businesses in business!
Until then, my advice again to everyone is stay safe and stay away. Don't gamble with your health. We have only one life. God bless PNG.
Livingstone Fontenu
MSc. Global Governance – UK
——————————————