Who can truly love, live and die for this Nation like late Grand Chief Sir Michael Thomas Somare?
By Elizah Palme | 07 March 2021.
We can conduct the best funeral ever, yes we can and it's for the great honour for Sir Michael, We can give the best ever speech in honour of this Giant of PNG who has ever lived, we can spend millions in honour of him; yet, The Highest and Greatest of All honour, we can give Somare, is to do right as a Public Servant or as a private citizen. Be honest in your job, say no to corruption, live off honest business dealings and serve your fellow nationals with integrity and pride.
We have some very wicked people who are now mourning for Somare, yet run this country down with their greed and i am not ashamed saying this.
Our tears for Sir Michael Somare must cause us to change and do due diligence for this nation.
Somare loves people, especially simple PNGeans, (ask a Sepik).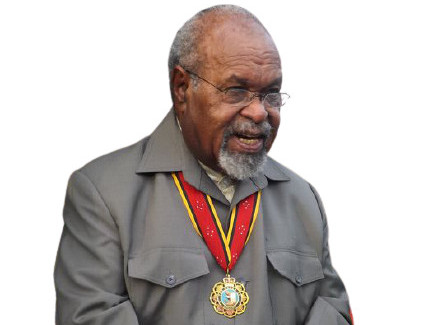 "If he lands at Boram Airport at 4 or 5 pm, he goes home at 8:30pm…because he goes visiting and talking with people". Mr. Donald Melam (who was here to bring Late Somare's body back to ESP next week) said.
We can love other simple PNGeans and do not corruptly destroy this nation by our acts or we simply cry for him now and tear this nation down by our greed for money, power and wealth. We all benefit from the decisions and sacrifice he made then. Now, what shall we do that will benefit the future generation? What legacy will we leave behind that the future generation, our children and grandchildren and their children benefit?
It is sad to see our MPs promoting their "hausman", tribalism etc and not being so nationalist like Sir Michael and his fellow PNGean patriots. We demote other tribes, districts, provinces etc and promote divisions, even in the professional environments. We compete for positions, power, titles and not supporting.
We had been a land of thousand tribes living in unity; it's slowly fading away. Where is nationalism and where is unity? I only see it in a few of our MPs as leaders. If we truly love, respect and honour Late Sir Michael T. Somare and sincerely mourn his passing, where is the commitment to uphold his ideals and to continue his legacy of patriotism, not regionalism?
Who can truly love, live and die for this nation like Michael T. Somare?
Ends//
—————————————
RELATED NEWS
————————————-