KEROWAGI MP DECLARED BANKRUPT
By Bryan Kramer, MP. | 14 December 2020.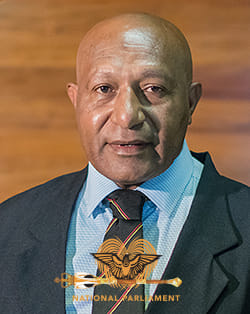 Member for Kerowagi Open, Bari Palma, was declared bankrupt (insolvent) by the National Court in June 2017 over K171,696 in legal costs awarded against him after a failed 2012 election petition.
He appealed the decision, but the appeal was later dismissed, bringing the matter to finality.
After it was uncovered last week, Palma paid the amount in full and, with the assistance of O'Neill's lawyer Tiffany Twivey, filed an urgent application to have the declaration of insolvency discharged last Friday.
Section 103(3)(d) of the Constitution says that a person is not qualified to be or to remain a member of the Parliament if he is adjudged insolvent (declared bankrupt) under any law.
The issue being contested is whether in this case, Palma having been declared insolvent by the National Court, he was disqualified from being a Member of Parliament and participating in and voting on Parliament proceedings.
Each camp's representatives converged on the Speaker's Office to thrash out the issue, only to end up in a heated debate and causing the delay in Parliament's resumption by almost two hours.
It is now up to the Supreme Court to determine whether he was eligible to be a Member of Parliament and whether he can continue to be one.
When Parliament finally convened the Speaker ruled he would adjourn Parliament to Wednesday until the issue concerning Palma's qualification is determined by the Court.
—————————————
WATCH Parliament Session Monday 14 December 2020.