𝐍𝐀𝐌𝐀𝐇 𝐀𝐆𝐆𝐑𝐈𝐄𝐕𝐄𝐃 𝐁𝐘 𝐓𝐇𝐄 𝐒𝐔𝐏𝐑𝐄𝐌𝐄 𝐂𝐎𝐔𝐑𝐓 𝐃𝐄𝐂𝐈𝐒𝐈𝐎𝐍
MEDIA STATEMENT | 31/05/20
By HON. BELDEN NORMAN NAMAH, MP
Member for Vanimo Green River
————————————-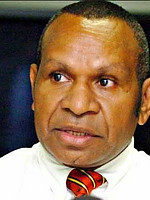 I went to court seeking the interpretation of a matter of grave importance for our people and our country. When we elect our Prime Minister the process must be clean, legal, transparent and beyond reproach.
In the election of the Member for Tari Pori Hon. James Marape as Prime Minister on 30th of May 2019 the process was questionable. A nomination, when accepted by a Member of Parliament as a candidate for Prime Minister remains the property of Parliament until Parliament decides otherwise.
In this instance a nomination was withdrawn without the concurrence of Parliament. This is the question I sought relieve from the Supreme Court.
The Supreme Court dispensed with my matter last Friday 29th of May 2020, on the eve of the first anniversary of the election of James Marape as Prime Minister. But the court never discussed the matter I brought before it.
Instead, it went on to discuss and take issue with my suspension and interpreted Section 28 (1) of the Organic Law on Duties and Responsibilities of Leadership (OLDRL) and made the ruling on it. In so doing the Court ruled that I am still under suspension contrary to the Stay Order that was issued by Justice Dingake on the 05th of July 2018.
I would have thought that the Court would have ruled that this case was before a different Court and it would have been sub judicial to hear arguments on my suspension which was a matter that is before a Judicial Review (JR) track. Alternatively Court could have also asked the Interveners to file separate proceedings under Section 18 (2) Reference.
I personally believe that the Court has overstepped its jurisdiction when it went onto interpreting Dingake's decision and Section 28 (1) of the Organic Law on Duties and Responsibilities of Leadership.
In my view as a layman, when reading the decision of Dingake and his subsequent Orders therein where I was granted Leave and subsequent Stay Order of the proceedings of the Tribunal and an Order staying my dismissal from office, that would have been sufficient to say that the Leave granted to me under Order 16 Rule 3 (8) (a) was an automatic operation of the law to stay the entire proceedings of the Tribunal, my suspension and dismissal from office.
I am aggrieved by the Supreme Court Decision on Friday 29th of May 2020 and will be seeking legal advice from my lawyers as to the next course of action.
I would like to inform and assure the people of our beautiful country that all hopes are not lost. I will stand to fight through every legal process to seek justice.
My record in the country speaks for itself. In my earlier years as the young military officer I went to war during the Civil War in Bougainville and got shot at and was wounded. Even when I was wounded I opted against returning to Port Moresby and continued on to remain in Bougainville to fight the Bougainville Revolutionary Army (BRA).
And when the call came to stop the Sandline Mercenaries from being deployed to Bougainville in 1997, I put my hand up to abort the mission and arrested all the mercenaries and deported them back to South Africa.
I even went to jail for six (6) and a half years for participating actively in this exercise. Fortunately, I got pardoned by the Queen of England in 2005.
In and around 2013 and 2015 I successfully filed two Supreme Court proceedings challenging the Constitutionality of 30 Months Grace Period and the Manus Asylum Seekers. I won both cases by unanimous decisions.
I am therefore not new to fighting for justice in this country.
I have put my God, my Queen, my country, my people and my flag ahead of my personal and family's interest and safety. I have pledged on oath when I joined the Military in 1989 and when I first got elected as Member for Vanimo Green River in 2007 to serve my God, my Queen, my people and my country.
The Supreme Court has dealt harshly and unfairly with me. The court has violated my rights as a citizen. It has not accorded me natural justice. I was never given an opportunity to defend myself before it.
In the process the Court never even came close to discussing the substantive matter brought before it. It has wasted people's time and money. The question remains as to whether or not James Marape's election as Prime Minister was constitutional. We will probably never know and that is injustice itself.
I remain convinced that my current reference has merits and will yet have its day in court.
Finally, this Supreme Court decision on Friday 29th May 2020 sets a precedence which now applies to all leaders who have stay orders on leadership tribunal decisions.
I thank all the people of this beautiful country and especially those who have supported me thus far.
THANK YOU AND GOD BLESS PAPUA NEW GUINEA.
HON. BELDEN NORMAN NAMAH, MP
Member for Vanimo Green River
Ends//
————————————-
NAMAH DENIES WITHDRAWING HIS COMPLAINT ON THE PURCHASE OF GENERATORS
By Lyanne Togiba – NBC News PNG | 27th May 2020.
——————————–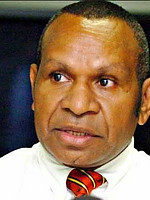 Opposition Leader, Belden Namah has denied rumors he is withdrawing the complaint he laid which has resulted in the arrest of former Prime Minister Peter O'Neill over the weekend.
The rumours arose after he was seen at the Boroko police station on Saturday when Mr. O'Neill was brought in to be arrested and charged with misappropriation, abuse of office and official corruption over the purchase of two generators from Israel worth millions of Kina in 2014.
When NBC News asked Mr. Namah at a news conference yesterday, why he was at the police stations when he was a complainant, the Opposition leader said he was there to show support to the former PM as a leader.
"Peter O'Neill is my brother and in situations like this, you know you have brothers who will be there to give moral support that's required.
"As to the complaint I have just released my statement, I am the person that made the complaint and if people from the National Fraud and Anti Corruption have acted on the complaint and have arrested Peter O'Neill, I am calling on them to arrest everyone that's involved in the process of procuring those generators from Israel, simple as that.
"Why holding Mr. Peter O'Neill, who was the person that did the final instrument if there was legality or illegality in the procurement of those generators, James Marape was the last person to say yes or no he should be equally held responsible," said Namah.
Prime Minister James Marape has said he will offer his statements as Witness of State, similar to what he's doing for the UBS loan Saga and that he will not use the office of PM to stop or encourage Police from doing their constitutional duties.
NBC News- Lyanne Togiba
Ends//
——————————-