Story of Ruth Yara. A concern mother to her eldest son, Wayne. Wayne was a student at the University of Papua New Guinea (UPNG). Ruth gave her very best in all the pains, sweats, and tears to provide the basic needs for her son to complete his education successfully. Reach the full story story below…
You are reading Solomon Aplas Motivation |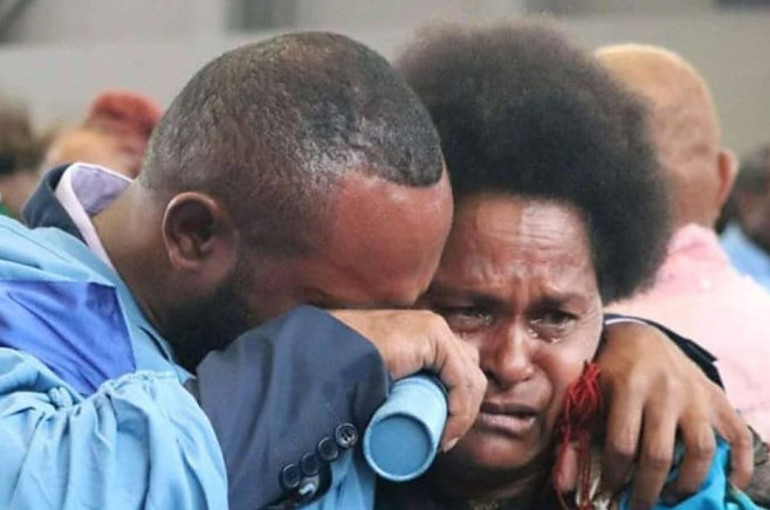 Ruth Yara – A VEGETABLE VENDOR BROKE DOWN IN TEARS AT SON'S GRADUATION
A mother, Ruth Yara from Southern Highlands Province in Ialibu-Pangia district broke down in tears while seeing her son graduating with the Bachelor of Arts Degree in Psychology at the UPNG's 65th graduation at Sir John Guies indoor complex in Port MORESBY.
Ruth Yara is a wife to Pastor George Pipiki Yara, a pastor of an Independent Fundamental Baptist Church who has been serving in the Ministry for almost 27 years.
In 2011, Pastor George was transferred from a Baptist church in Pangia to Faith Way Baptist Church at Gerehu in Port Moresby. However, living in the city was quite a challenge for the Pastor family especially with the Pastor earning K300 fortnight paid by church while five of his children are in school, food for the family & other basic needs of the family was very hard.
Hence, the life was getting tougher for the family, Ruth had decided to sell vegetables at Yumi Yet Gate at Gerehu just to support her children with bus fares and other basic needs of the school & also to support her husband to provide the basic needs for the family.
Ruth used to wake up at Dawn (around 5:30am) & go to Boroko & Gordons market to buy a bulk of fresh greens & vegetables.
Then she has to load them on the bus & bring them to her market place so that she can sell them to the tenants residing at Yumi Yet Compound.
She has no time to rest because there is no one to help, her two daughters used to go to school but after school they used to come home quickly & help the mother doing marketing so she can rest.
Ruth used to be a concern mother to her eldest son, Wayne, who was the student at UPNG. Ruth always try her very best to provide the basic needs for her son. And watching Wayne reach out to hold his degree was worth all the pain, sweat & tears they have endured.
After receiving his degree, Wayne said, "what I see in my entire education journey & daily living, I see the hands of the Lord overshadowed us & protected us in every single day.
"For me to complete my Tertiary education in a higher learning institution of PNG is a huge asset for my family because we came from nothing, therefore, I dedicate my Bachelor of Arts Degree in Psychology to my mom & dad."
Thankyou brother Albert Moses of Albertis Photography for this article and image.
#The_Love_and_Struggle_of_a_Mother
Ends/