"During my studies at University of Papua New Guinea and LTI, I realised that Disability Advocacy needed to be supported by something else, and that was when another passion for Policy Making developed. So basically, I am passionate about Disability Advocacy and Policy Making." – Isabella Kila
THERE IS NO BAR TOO HIGH: Inspiration of Ms. Isabella Kila of Papua New Guinea
By Isabella Kila | Kumul Care | 3 September 2021.
Isabella Kila is my name and I am twenty-six years of age. I come from Rigo District (Coastal and Inland) in the Central Province. I am the third child in a family of five and we live at Gerehu Stage 3.
I studied Law at the University of Papua New Guinea from 2016 to 2019 and have recently graduated with a Bachelor's Degree in Law. Early this year (2021), I graduated from the Legal Training Institute and got admitted to the Bar of the National and Supreme Courts of Papua New Guinea.
Growing up, disability advocacy was the one thing that I was, and still am, most passionate about. It has been my motivation to become a lawyer. I have been advocating for People with Special Needs since 2001, when I was first enrolled in Cheshire Disability Services, and continue to advocate, to date.
During my studies at UPNG and LTI, I realized that Disability Advocacy needed to be supported by something else, and that was when another passion for Policy Making developed. So basically, I am passionate about Disability Advocacy and Policy Making.
There were many challenges that I faced, both personally and academically. Just like what most People with Special Needs face in their day to day lives, Accessibility issues were at the forefront for me. Lack of Accessibility in infrastructures and Assistive Technologies can be a major problem for People with Special Needs.
In my case, I had struggles with Accessibility in terms of infrastructure – almost all of the schools that I attended were built in a way that was not conducive for a person who has a physical impairment, such as myself. However, I broke through the barriers and accomplished my goals and desires. The secret to my success is the power of positive thoughts.
Just like there is power in your words, there is power in your thoughts. Positive thoughts will lead to positive attitudes and later produce positive outcomes.
Assistive Technologies for People with Special Needs are the most important tools in their everyday lives. They are part of them and different types of impairments require different types of Assistive Technologies. These tools allow them to participate in different types of activities.
It also helps them to exercise their freedom of movement and to see places that they have never seen before and when these tools are not easily accessible, People with Special Needs are forced to stay at home or wherever their place of residence is.
As for my case, the Assistive Technology that I use or am required to use is a wheelchair because I am a person with a physical impairment. Having a wheelchair by my side all day, every day has helped me achieve many things.
For instance, I have broken many barriers and overcome many obstacles during my educational journey, from elementary to tertiary institutions, simply because I had a wheelchair by my side.
Lastly, many People with Special Needs are very skillful and determined to achieve anything and make a difference in the country. All they need is the right type of Assistive Technology to be their guiding stars during the journey.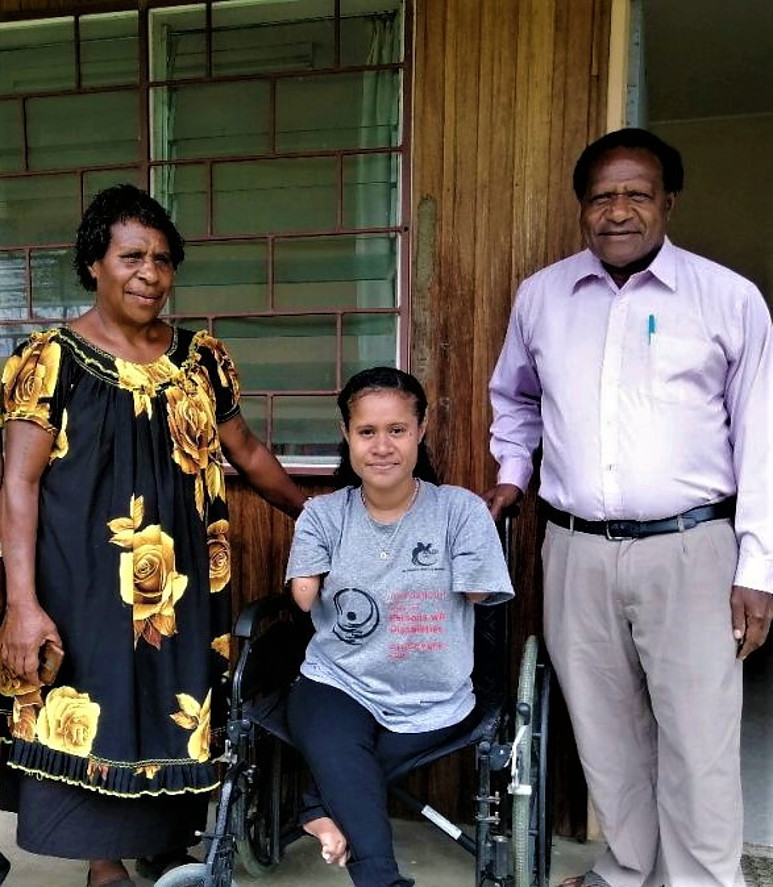 What are your goals with the Isabella Kila Foundation? 
Isabel Kila Foundation was set up solely for the purpose of Disability Inclusiveness in terms of providing services and advocacy. It is a non-government organisation and therefore will depend solely on sponsorships and donations from interested organisations and companies.
The Foundation has identified four (4) main focal points (Health, Education, Employment, and Law & Justice), that are believed to be the most important areas in the lives of People with Special Needs. Therefore, providing services and advocating will be based upon these four (4) main focal points.
Vision and Mission Statements
· Mission
"To be the voice and hands for People with Special Needs by advocating and providing services for a better and effective livelihood."
· Vision
"To be the agents of change by breaking down barriers and promoting disability inclusiveness in Papua New Guinea and the world as a whole."
Long Term and Short Term Goals
Short Term
• Carry out a survey on the number of people with disabilities in PNG.
• Purchase a register land and build a warehouse for storing assistive devices such as wheelchairs, crutches, etc.
Long Term
• Build a safe house for people with disabilities who are survivors of violence and abuse, and assist them in accessing justice services.
• Build an Aid-post for people with Disabilities to receive proper health services.
• Provide education and employment opportunities for people with Disabilities.
Making a difference is the simplest thing anyone can ever do, especially young women. However, it is always easier said than done. In saying that, when a young woman wants to make a difference in the community, society or the country as a whole, there are many things that needs to be in place.
First and foremost, a woman cannot make a difference without passion. It is passion that drives, motivates and sets that fire within to change the world.
Change has to come from within – it is a choice that must be made and needs to start with yourself. Change the way you think, your attitudes, behaviour, your approach to people, and especially if you think the environment that you are currently in, is holding you back to make a difference.
Source link: Kumulcare